Beside Cornhole bags and boards, there are plenty of additional Cornhole accessories that will improve your playing experience.
In this article, we bring you some of the handiest pieces of equipment that you can buy for your next cornhole game.
1. Cornhole night light set for boards
The night fell, and you can't seem to stop playing cornhole.
If you don't have night vision, it will be very difficult to see the exact position of the hole.
Unless you attach a night light set to your cornhole board!
On the bottom side of a hole, you can attach a simple LED nightlight set that will make the hole clearly visible during nights.
You can choose from multiple colors such as blue, red, green, white, etc.
These night light sets have a pretty long life since some LEDs can withhold up to 100.000 hours of work. However, you will need to replace batteries from time to time. Most of the night light sets require a simple AA battery in order to run. Check out our reviews of cornhole boards here.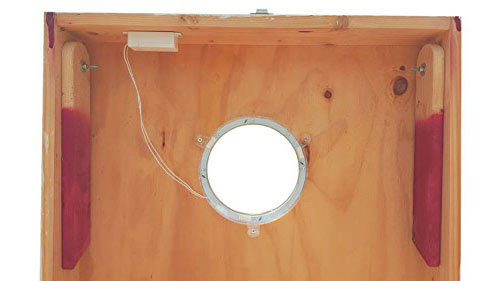 We highly suggest that you don't depend solely on this piece of equipment when playing at night. Make sure to have strong LED reflectors as well to light up your whole playing field.
Scoreboards
The scoreboard is an important piece of equipment that every cornholer should have, especially if you are a cornhole tournament organizer.
Scoreboards are placed outside of a cournhole court, but not too far so that every player can clearly see the results.
Some cornhole boards, such as Baggo, have included scorekeepers directly on the board itself. However, since Baggo boards are a foot shorter than regular cornhole boards, these boards can not be used for official tournaments.
You can find cheap scoreboards on Amazon for less than 30 bucks.
There are many types of scorekeepers; for example, this is the most creative one that we found.
This is a beverage cup that at the same time has numbers for keeping a score. Quite handy 2 in 1 equipment. However, the downside is that every player needs to have their own cup, and often there can be a misunderstanding on which "cup score" is correct.
If you don't want to go down the lane of purchasing scoreboard equipment, you can download a simple smartphone app to keep the score.
It may help: Top 8 Android and Apps for Cornhole to keep score
T-shirts
Want to look cooler than other teams on a cornhole tournament?
Get your own custom t-shirts and hats!
Of course, this won't improve your gameplay, but it's a nice way to stand out from the crowd.
This is a MUST HAVE accessory if you treat cornhole championships seriously.
It's a great idea to have your own t-shirts with printed team names and logos on them.
If you don't have a team name yet, then look at this post containing some cool cornhole team name ideas.
In that post, you will also learn how to create a custom logo for your cornhole team for FREE!
Take a look at our T-shirt selection with funny cornhole quotes 🙂
We can also print your team name or logo on any type of shirt, hat, or mug you find in our shop.
Just send us your team name or logo, and we will get back to you with a mockup design example and offer.
You can contact us here.
Drink holders
Cornhole is a relaxing and fun game; that is why most Cornholers love to drink and play since cornhole is mostly played on the lawn, it's a nice idea to have some kind of table or holder for drinks.
Drink holders should be placed outside of the playing field, along with scoreboards.
If you don't want to buy a separate drink holder, you can use a simple mini table or a scoreboard with an integrated drink holder, like the one on the picture.
We suggest that you don't buy drink holders that are directly attached to aboard.
This is because the holder will block a cornhole bag from falling off the board.
If a bag falls off the board, it carries zero points. Sometimes, a drink holder attached to a board can block a bag from falling off the board. So the bag that is supposed to get zero points is now on the board and carries 1 point.
Ensure that every accessory, including beverage holders, is at least 5 feet away from the cornhole board—of course, outside of the playing field.
Board cases
Most cornhole boards are quite heavy, so it becomes quite a headache when you need to move them around. Luckily, there are many board cases with standardized dimensions that you can use to put your boards inside and carry them more easily.
The reason why boards are so heavy is that they are made out of wood.
According to the official rules, every cornhole board should be made out of wood because, compared to other materials such as plastic, it drastically affects play performance and how the bag slides on the board.
However, as we mentioned earlier, one manufacturer of unofficial cornhole boards has very practical equipment. Baggo boards are very lightweight and offer handles, so you can carry and store them anywhere you want.
Board cases can also serve you as dust and dirt covers. This will help you protect your boards from paint or scratch damages.
Some manufacturers offer cases as a free additional for every board purchase. However, you can also buy them for cheap on Amazon.
Canvas Art

Have you won any cornhole tournaments recently?
Send us a picture of your team with whom you won the tournament, and we will create an amazing canvas art that you can hang on your wall to remind you of those beautiful moments.
You can send the image to help@cornholemart.com.
We will reply to you with the current canvas dimensions that we have available and the pricing.
Tournament trophies
If you are organizing a cornhole tournament, then make sure you have prizes and trophies for the winners. Prizes, raffles, or trophies are in most cases funded from tournament ticket prices.
Trophies can be a great addition to the whole cornhole tournament experience and make your tournament perceived as more serious. This is very important, especially if you intend to organize tournaments on a regular basis.
Trophies can be a great memory trigger and something that people are proud of having. For a low price, you can greatly increase the experience of your tournament.
You don't want to overspend on trophies because you want most tournament money to go for prizes and your financial goals. For example, it could be to raise money for charity.
You can order custom trophies and medals on this website.
Sound effects
CornHoler is a small sensor device that will trigger sounds when a bag goes into a hole.
Some of the sounds that this device triggers are: 3 points, cha-ching, Great shot, it's in the hole, swish, applause, and crowd cheers.
This is a very cheap device as it costs less than 20$ and can greatly affect the overall gaming experience.
You can attach the CornHoler under your cornhole board using screws, velcro, tape strips, or poster tape.
It also has a built-in LED light in case you need more light while mounting it on aboard.
It requires 3 AA batteries to run.
It's not recommended to use these devices during tournaments. These devices are fairly loud, so they can confuse other Cornholers that are playing near your court.
Cornhole accessories are very cheap these days, and for just a few bucks, you can drastically improve your gaming experience for all players. If you play cornhole frequently, then consider upgrading your equipment with one of the mentioned tools.
Which cornhole accessory do you use?
Frequently Asked Questions
Do official tournaments use additional cornhole accessories?
Official tournaments don't use accessories such as lights and music censors. You can wear or your team's T-shirt on the competition day. Each game in a tournament has a scoreboard with a drink holder.
Do I need a cornhole light?
If you play at night and don't have alternate lights on the playing field, you will need LED lights for your board and hole. You will also need reflectors to lighten up the playing area.
Which scoreboard is better: on-the-board or standalone?
A standalone scoreboard is better than an on-the-board scoreboard. It is visible to all the players and is easy to adjust.
Where can I find cornhole T-shirts?
You can find pre-printed cornhole T-shirts online and at sports supplies shops. If you want a customized shirt with your logo, you will need to get in touch with customized shirt makers.
How important is it to store my cornhole board and bags in a storage box/bag?
If you use corn-filled bags, you will have to store them in air-tight containers for a long time because moisture in the air can lead to mold development inside the bag. You can also store the bag in the freezer for a day or two as it kills bacteria and stops mold. You don't need to take such measures for resin-filled bags.
For boards, you need to store them in a storage box or storage bag with the front side of each side facing away from each other. Make sure you wipe off the dust or debris after a gaming session.