With over 30.000 active members, cornhole is becoming more popular every day.
Since this is a summer lawn game that is mostly played outside, it is very hard to organize games during winters.
Luckily these days almost everyone has some kind of smartphone device and there are plenty of bag toss games available for download.
Cornhole games are very popular on Apple and Android marketplaces, some of the most popular apps have over 100.000 downloads.
Since there was a gold rush in app business, everyone wanted to create an app and make it available on Google Play Store or Apple Store.
Unfortunately there is way too many junk applications available for download, so it's relatively hard to find fun cornhole games that will keep you excited for days. Most of the games are either too easy to play or have very bad graphics.
In this post, I will try to analyze and recommend you some of the most popular cornhole games currently available on Google Play Store for Android users and on Apple store for iPhone and iPad users.
Best FREE Cornhole iPhone (iOS) App
Ultimate Cornhole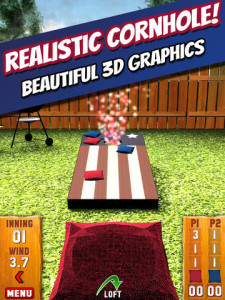 This is one of the top rated cornhole games on Apple marketplace. It's no surprise once you see the quality of 3D graphics and sound effects.
This game is 100% free, however like in every game there are many in-app purchases available such as option to remove ads and to have a custom cornhole board design.
If you are an experienced gamer, then this app won't get you excited that much. Once you figure out wind numbers it will be fairly easy to score every time.
Honestly, if this game had option to choose difficulty level such as Beginner and Pro, it would be much more exciting. It's very easy to use so it's great for beginners or if you want to introduce cornhole game to kids.
In addition to that, online multiplayer option would be fantastic feature which would make this app a no-brainer.
Best PAID Cornhole iPhone (iOS) App
Tailgate Cornhole
For only 0.99$ you get the most exciting feature that in my opinion every sport app should have, the online multiplayer feature. This app has Game Center multiplayer option which lets you compete against other players. Scores are saved online so you can always see where you rank against other players. This feature makes this app far more exciting than other free apps.
For a paid app it's already expected to have high quality retina graphics, which is very nicely done.
Like every app, this one also has in app purchases. Kinda greedy, but for a pay app to have in-app purchase in order to remove ads is too much for me.
As for the game play, this app also has lack of difficulty. For beginners that sounds great, but for more experienced gamers once you get the hang of wind speed and angles it becomes very easy. Simply if you play against computer it will become boring very fast.
Overall impression: Great app and worth the 0.99$, especially for the multiplayer feature.
Best FREE Cornhole Android Apps
Cornhole Ultimate: 3D Bag Toss
With over 100.000 downloads this is the most popular cornhole app game for Android smartphones.
The overall impression is great! Graphics are very high quality and the sound effects it uses are very realistic.  I have tested this app on multiple android smartphones and tablet devices and there were no bugs, the graphic was great on every single android device.
The positive side is that even though this is a free app, it has online multiplayer feature via Google Play multiplayer. This let's you play against other players and match your results on scoreboard. The down side that I encountered many times is once opponent starts losing by big score difference they simply leave the game.
If you choose to play against computer, you may get a bit disappointed. Like with previous apps, this one also has lack of difficulty levels. Once you figure out the wind speed and distance you will easily beat the computer without letting it score a single point.
Overall opinion: Great app, fantastic graphic effects, you should definitely downloaded since it's free and has multiplayer option.
Take a look at the game play here:
Cornhole (Discontinued)
With over 100.000 downloads this is also one of the most popular cornhole app on Google Play store. Although with slightly worse rating than the previous app.
One thing that I noticed immediately is that wind was changing way too often. It's simply realistic that wind changes so many times during a single game.
Although it is was very fun to play at the beginning, you will realize that it's quite difficult once you see that computer almost never misses a hole. This one lacks of difficulty level, but this time the easier level.
Another "bug" is that you won't be able to slide other bags that are already on the board. Also as I've read, many users reported that app suddenly crashes on older Android versions.
Honestly, I would rather play the Cornhole Ultimate app instead of this one. Let me know what you think about this app in the comments below.
Bonus – The Best Tossing App
Paper Toss 2.0
I guess that if you like cornhole, you will probably like the whole idea of tossing games. This is truly addictive game.
With over 100 million downloads, and millions of everyday players this is the most popular tossing game for Android smartphones. With high level graphic and realistic sounds, it rightfully attracts so many players and very good ratings.
This is a fairly difficult game so it won't become boring anytime soon. Also you have an option to choose difficulty levels, but compared to the previous apps these really increase difficulty.
With the new version of Paper Toss new features and objects are added. You have ability to hit objects other than just throwing paper in the trash can.
Caution! This is a real time waster and it can lead to procrastination at work 🙂
You can also download the version for iPhone and iPad devices here.
Hope you liked this quick review. Off course these apps were the most popular at the time of writing this post. Every day thousands of new games are uploaded to app marketplaces.
As a token of appreciation for sticking till the end of this post, I have one more app to share with you. This is not related to games but it will come handy at your next tailgating party.
Scoreboard app
It will help you with keeping the score numbers for the most popular tossing games such as cornhole, washers, Baggo or ladder golf. However this one is only for Android smartphones.
Since bag toss games are very popular and have such a high ratings, I have no doubt that new cornhole games are being developed as we speak.
Do you have any iPhone or Android conrhole application that you would like to recommend? Feel free to share your experience in the comment section below.