A cornhole board is a cherished and valued investment for a cornhole enthusiast. It tells everyone your love for the game without even saying a word. Cornhole boards come in various designs. The best thing about designing your cornhole boards is that you have complete freedom when it comes to painting/staining or putting decals on your boards. However, everyone can't go for a DIY design. Luckily for all such people, there are tons of cornhole boards with creative designs that will take your game to the next level. The aesthetic value and design of a cornhole board directly impact the fun level in the game.
So, if you are one of those people who don't know how to paint/stain or install decals on your cornhole boards, or you don't have a DIY set up in your home, then this is the right post for you. In this article, we will present you with 13 creative cornhole board designs which you can buy at an affordable price and up your game. When you set up one of these boards in the game area, everyone's going to love them.
13 Creative Cornhole Board Designs
Nothing is more important than our flag. We all love The Star and Stripes; why not get a cornhole board with our flag on it. I mean, it is summertime, cornhole season is at peak, and here comes the 4th of July long weekend. A game of cornhole with your friends and family is a must. Nothing sounds more patriotic than playing on board with the Stars and Stripes on it.
And you don't need to worry about the build material, slickness, and other features. It is made from ¾ inch Baltic Birch plywood with the frame reinforced for added durability. The legs are held nicely with big carriage bolts, and the board is coated with water-based polyurethane to give it a perfect slickness.
This design is for all those who love the cowboy style. The cigar skull and the guns take you back to the Wild West period. The dark gray border with 5 bullet marks around the hole gives you a feeling like you are doing some shooting.
This board is also made of birch wood with a pine wood frame. The vinyl is protected with 3M UV-protected lamination, extending the durability and providing a year of use. The set includes 2 boards, 8 bags, storage bag (for boards and bags).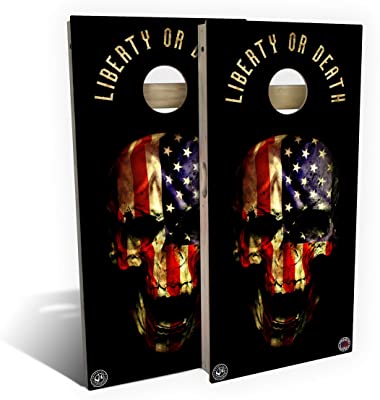 Rightly, said. For Americans, it is liberty, freedom, or death. We won't let anyone take that away. No matter how huge the price we have to pay. This cornhole board expresses pure Americanism. Moreover, the skull with Stars and Stripes gives a fierce look to the board. It simply means that we can go to any length to save our liberty and American values.
It is regulation-size cornhole set with 2 boards, 8 bags, and storage bags. It is made from a poplar hardwood frame and 5/8-inch Baltic birch tops. The image has been prepared from UV links so that it won't fade away in the sun.
It is one of the most loved designs. The tiled look makes it decent, stylish, and attractive at the same time. The design is smooth and expresses neatness. It is the best design for all senior players and people who don't like flashy boards.
It is also a regulation-size board set and comes with 8 cornhole bags and storage cases. The pattern is scratch-resistant and is printed on both sides for extended durability and protection from environmental elements.
Nothing looks better than a triangle saga on a cornhole board. This board design is a combination of pure black striped-gray triangles. It is a perfect board of daytime and outdoor gaming sessions. One of the best things about this design is that it is a direct print on the wood and not a vinyl decal.
One set comes with 2 boards, 8 corn-filled cornhole bags, and storage boxes for boards and bags. The boards are made from 100% premium wood. You also get a 1-year warranty with this set.
This design features a big chimpanzee in the center of the board with pine trees at the bottom. It is an official design from the American Cornhole Association. The design's color scheme, graphics, and sublimity make it a great option for an outdoor cornhole game. The design has a calmness in it.
It is a regulation-size board with cornhole bags and storage bags. It is made from solid mahogany wood and grade A plywood. Double crossbeam support makes this board more durable than others.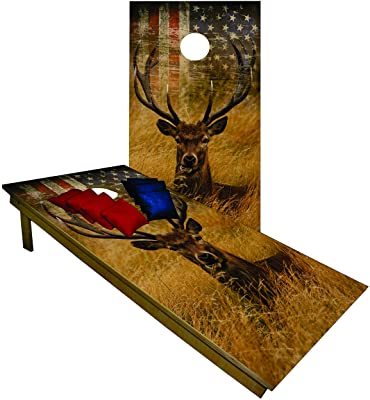 A reindeer with our flag at the top; sums up everything. A reindeer symbolizes knowledge, wisdom, improvisation, cleverness, and creativity. Reindeers are known for nobility. Needless to say, anything else, the perfect American character has been explained in two lines.
It is a handmade board made out of Birchwood. The boards are regulation size and will go a long way with you.
It is an ideal board for all nighttime players. The LED lights on the sides of the board and the hole illuminate the board and make it easy for you to throw the bag. The Stars and Stripes on the board give an artistic and awesome look when LED lights are turned on.
The 4×2 feet board is made from ½-inch treated plywood and ¾-inch pine framing. The LED lights are pre-installed. You will need batteries to run the LED lights.
For all wildlife lovers, the bear board is an awesome cornhole board design. The wood stripe background with a bear and forest scenery gives the board a perfect wildlife look. It is an ideal cornhole board to play a game of cornhole when camping or spending a weekend in your cabin in the woods. Who knows, you may get a real sighting.
It is a regulation board made from a 5/8-inch Baltic birch top and poplar hardwood frame. The package includes 8 cornhole bags and storage bags.
It is an ideal board for all Mickey and Minnie lovers. It is also a great design for kids. One board features Minnie, and one features Mickey. This board is sure to give you some nostalgia. The cornhole bags with this board set are also different. You get 4 bags with two white circles and 4 blue bags with a lot of white circles. The bags resemble the dressing of Minnie and Mickey.
The regulation size cornhole board is affordable cornhole set for family game time. It comes with a carry case and storage bags.
Captain Morgan is a brand of flavored rums. Its drinks are quite famous in North America. The design features a Captain Morgan depiction with a sword in one hand and one foot over a beer drum. The description "Live Like A Captain" is a fun and motivational quote. The board is a perfect setup for a cornhole session with friends. The bags are also designed with 2 crossed swords and CM written in a circular.
The 48×24 inches cornhole sets are made from high-quality hardwood. The set comes with 8 bags and 2 storage bags.
Are you planning a cornhole game session on the beach? Don't worry; we have the perfect setup for you. Each board features a beach image with some tree branches hanging at the top and clouds in the background.
The regulation board frame is made from Poplar and 5/8-inch Baltic Birch top. The design is printed with UV ink to avoid fading over years of use.
Another creative design is a beach image in the background and a hammock hanging with a tree trunk. It is best for a cornhole session on a family vacation. The design has a cool and calm outlook which is ideal for a fun game session.
It is also a regulation-size cornhole board set. One unique thing about this board is that it comes with an additional support rack with the legs and helps keep the board stable.
DIY Cornhole Board Design
You also have the option of designing cornhole boards as per your imagination and preferences. However, it will take some effort and require 3D printers, decals, vinyl stickers. If you don't have these things with you already, the cost can go pretty high. A feasible option would be to ask a friend to do it for you, or you can simply get your favorite design printed from a printer's shop. However, you will still need to transfer the design to the board, and it can get pretty complex.
Final Words
Now that you know some of the best creative designs for your cornhole boards and how to make a DIY design, you are in a better position to decide which is best for you. We recommend you pick the option which is easy for you. Another option would be to buy a plain board, get some decals, and paste them over your board.