So why are Harley Davidson cornhole boards so popular?
Well because there are many cornholers that are die hard Harley Davidson fans. It shouldn't surprise you, because annually museum of this motor brand attracts over 300,000 visitors from all over the world.
Today there are many fan clubs, restaurants, blogs, museums related to this brand.
Fans of this motoring brand are totally a different breed compared to other brands. They are are much more engaged and loyal to the brand in all areas of life.
HD motors always look beautiful with its distinguishing designs. That is why Harley Davidson cornhole decals look so damn good!
In this post we bring you some of the coolest Harley Davidson board ideas that we found online.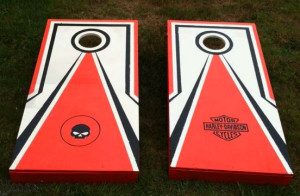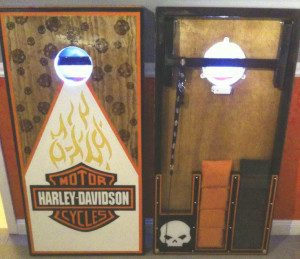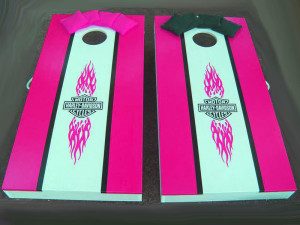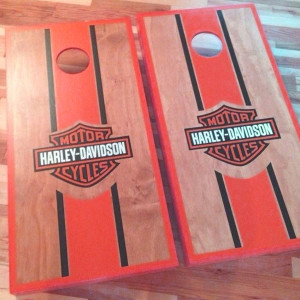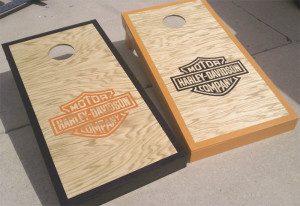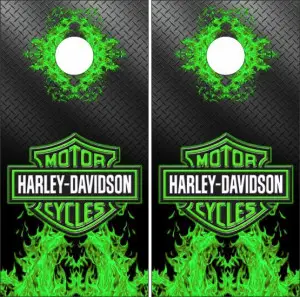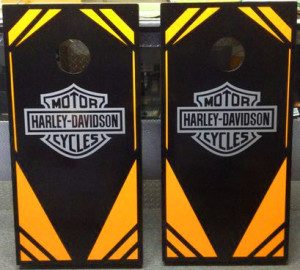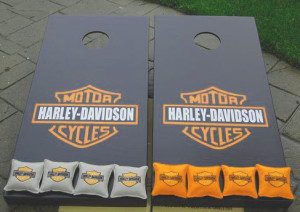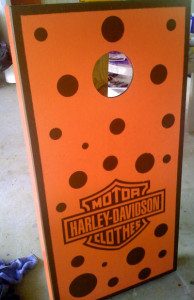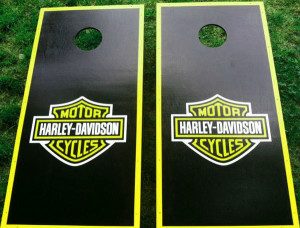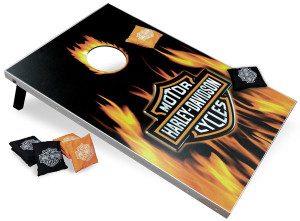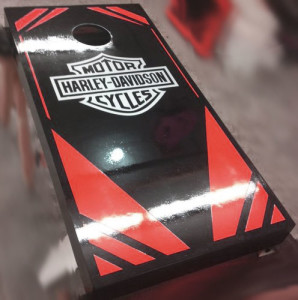 Short history of Harley Davidson
One of the largest and most popular US motorcycle company was founded near Milwaukee in 1901. by William S Harley, Arthur Davidson and Walter Davidson.
They are popular for manufacturing long distance and heavyweight motors. In 1963 they introduced the first gold cart which was only three wheeled, but later has become four wheeled.
One of the main reason why HD is so popular compared to other motorcycles is because of its design and quality. That is why they managed to have so many loyal fans for well over hundred years.  With it's orange, black and white combination you can spot HD accessories from miles away.
However, if you intend to manufacture and sell boards with Harley Davidson sign, keep in mind that you need to pay license fee directly to HD for using their logo. For example only in 2013 over 1% of their whole yearly revenue came from these kind of fees.
Product Links
Here is a list of our top easy-to-find Harley Davidson cornhole boards and accessories. Please let us know if you find others that we should link to and we'll add them to the list.
Harley Boards
Harley-Davidson Flame Cornhole Set, 2×3, Wood, Lightweight, Portable, Comes with 8 Bags
American Motorcycle Cornhole Boards Beanbag Toss Game W Bags Harley Biker Skulls
Cornhole Boards W Bags Corn Hole Beanbag Game Harley Eagle Flame Biker Set 476
Harley Bags
CORNHOLE BEAN BAGS HARLEY FLAMES MOTORCYCLE BIKER 8 ACA Baggo Toss Party Bags
Cornhole Bean Bags Harley Flames Motorcycle Skulls Skeleton Biker 8 Aca Bags New
8 All Weather Flames & Skulls Cornhole Bean Bags Aca Regulation Harley Fans
Do you have custom Harley decal that you made by yourself?
Frequently Asked Questions
What are some other creative cornhole board designs?
The ideas are unlimited when it comes to cornhole board designs. You can pour out your imagination on the board. You can go with your favorite superhero image, cartoon characters, scenery, your favorite motorcycle, cycle, basketball court, skateboard, or anything else. You can also keep it as simple as stripes or go for a star. It is also a great idea to print our national flag on the board. So, there is no limitation when it comes to cornhole board designs.
Why are Harley Davidson cornhole boards so famous?
Harley Davidson themed cornhole boards are popular because a lot of motorcyclists (especially Harley users) love to play cornhole. Moreover, a Harley is the ultimate destination of every biker. Yes, superbikes are a craze all over the world, but Harley has a totally different stature. So, people show their love for Harley by putting Harley Davidson designs on their cornhole boards.
Do I need to pay a registration fee for using a DIY-designed cornhole board?
No. You don't need to pay any registration fee for using a Harley themed cornhole board. You can also make yourself a DIY Harley cornhole board without worrying about any legality. However, you will need to register yourself and pay a license fee for commercially selling Harley Davidson cornhole boards.
Where can I buy Harley Davidson cornhole boards?
You can buy Harley Davidson cornhole boards from online retailers such as Amazon, Etsy, and eBay. They are also available at cornhole retailer websites. You may found Harley Davidson cornhole boards at games stores.
If you have made some interesting Harley Davidson boards and want to feature it on this page, then feel free to write to us at help@cornholemart.com or use this contact form.