Cornhole is an exciting and fun game to play with friends and family. You will see people playing cornhole at BBQ parties, tailgates, and campsites. It is also being organized at bars, pubs, and other indoor places.
2/4 players play cornhole by tossing the corn/resin-filled bags at the boards with a hole. Each player gets 4 chances to throw the bag at the board by taking alternate turns. The scores are calculated by the cancellation method. A team reaching 21 or more at the end of an inning is declared the winner.
A lot of beginners ask one question, how many bags we need to play cornhole. The rule is simple. One player has 4 chances at the hole, so technically, each team will need 4 bags. As the boards are placed opposite each other, the bags automatically reach the other player in the team after 4 throws. The players on the other end throw the bags on the opposite board, and the bags reach the other players. The game continues in this way.
But what to do when playing with more than 4 people; 6 or 8 or 10!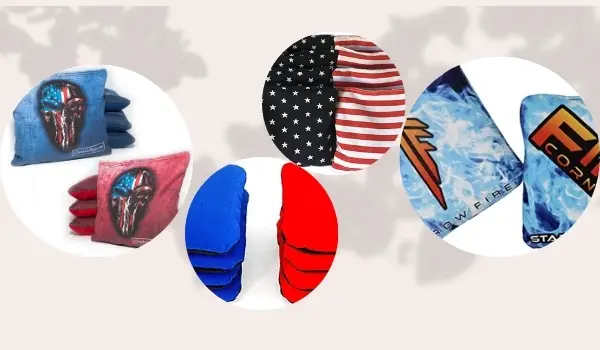 How many bags do you need if you play Cornhole with 8 People?
The game rules laid out by American Cornhole Association states that a double team game consists of 4 players. So, you will need 4 bags (for one team) to play the game without any interruptions. An inning is completed when one player from each team completes his/her throws. The bags are gathered at one board which the players then collect and throw at the other end.
So, a game of cornhole (with 2 or 4 players) needs 4 bags per team/player.
Hence, it does not depend on the number of players you are playing with. If you are playing in teams or one-on-one, you will need at least 8 cornhole bags for the game to continue smoothly.
Even if you are playing with 8 people, you will need 8 bags as only 4 players can play at one time. Making a team of more than 2 players will mess up the game and scoring patterns.
However, most cornhole players have their cornhole bags because they are comfortable playing with these bags. The weight and material of the bag are mostly identical for a game. Some people choose to play with small bags and boards to make the game more challenging, and it is at the discretion of all the participants.
Can I bring my bags to a tournament?
Yes, you can bring your bags to a cornhole tournament, provided the organizing body allows it and your bags meet the set guidelines.
Can I bring my bags to a private game?
Yes. You are free to bring your bags to private games. Private game gatherings are the best place to showcase your bag and board collections.
Final Words
The number of bags required for a cornhole game doesn't depend on how many players are playing. It is a set number according to the rules of the gameplay. So, if you have 8 or more players, you don't need more bags. What you need is to put in your best effort and win.
All the best for your next game!