Cornhole bags or bean bags are the objects you throw at boards while playing a cornhole game. Cornhole bags dominate how the game proceeds and their dimensions/weight can affect the quality of your throws. Therefore, it is crucial to know how much a cornhole bag weighs and how heavy should a regulation beanbag be for a real game of cornhole.
In this article, we will discuss how much a cornhole bag weighs and the right weight for a regulation bean bag for a real game of cornhole?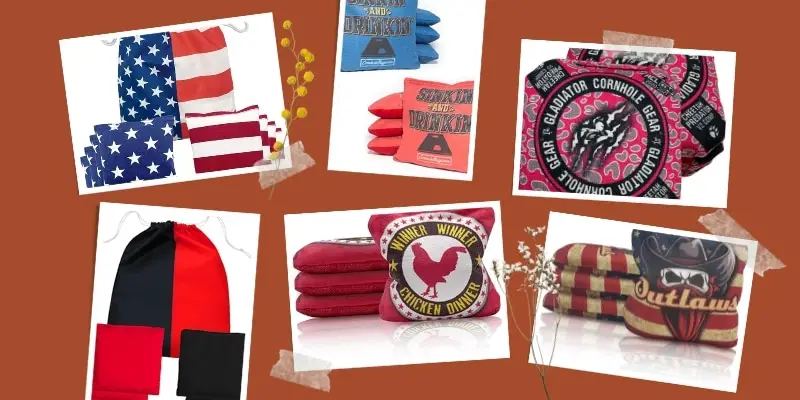 How much does a Cornhole Bag Weigh?
The regulation weight for a cornhole bag is 14-16 ounces (0.8-1 pound). Each bag is filled with 2 cups of feed corn. The finished weight of the bag, including the fabric, should be 14-16 ounces. This is the requirement for ACA tournaments.
For a real game of cornhole, one must follow the guidelines laid out by American Cornhole Association. You must take care of the bag weight and use the right-sized bags (6.25 x 6.25 inches with a 0.25-inch stitched seam on all four sides), keep the boards at the recommended distance, and follow the original scoring guidelines.
Can you change the size and weight of Cornhole Bags?
Yes, you can change the size and weight of bags according to the boards you want to use. Some boards come in a smaller size than 6 inches. These boards take the game to the next level, and you will use smaller bags with these boards. Usually, the boards come in 6, 4, 2, and 1-inch hole sizes. Cornhole bags are also easily available in these sizes.
Unless you are playing an official match, you have complete freedom to go as you like. Some people also make DIY boards and bags to have more fun by making bigger holes and bigger bags. Try playing on a board with a smaller hole if you want to spice up the competition and prove your metal in cornhole. I bet you'll go bonkers before you can do some bag-in-the-hole celebrations.
What are cornhole bags made of?
Regulation cornhole bags are traditionally made of waterproof canvas. There is no requirement by ACA for this. You can also use twill and synthetic suede. The material you use must be durable and can tolerate the impact from the throw. No one likes a busted bag during an intense game.
Is there any regulation color for the bags?
No, there is no regulation color for bags. You have complete freedom to go with the fabric color, type, and design of your choice. A lot of people go with customized bags. However, one must take care of a couple of things. The color of the bag and the board must be different. You'll have some trouble throwing a white bag on a whiteboard. Secondly, it is better to have a sharp color for the bag. Light-colored bags get dirty too soon.
Final Words
A lot has been said about cornhole bags. We are sure you won't have any issue anymore with a cornhole bag for a real game or some fun throwing.