Cornhole is a fun game to spend weekends with family and friends. There comes a time in every cornhole enthusiast's life when they want to play on a DIY painted/stained board. You can always go for decals and vinyl designs, but there is no satisfaction in it. The feeling you get after painting a board yourself is a whole different thing. The satisfaction of playing a board you have prepared yourself cannot be explained in words.
However, not everyone knows how to paint a cornhole board. This is where we come in. In this article, we will discuss how you can paint/stain your cornhole boards. We have kept the process simple, so even beginners can get a hold of it. Once you know how to go around the process, you can deal with more intimidating designs easily.
How to Stain and Paint Cornhole Boards
Staining your cornhole boards for a simple design is easy. You will need the following supplies and a whole day for the process. The process needs drying time after each paint session. Hence it is recommended to start early in the day.
Supplies Needed
Sandpaper (320 grit or higher)
Wood putty
Primer and a cheap brush
Frog tape
Paint (pick your colors according to the design)
Finish for a cornhole board
Let's go through the procedure now!
Step 1: Setting up the Workspace
The first step is to pick a workspace for painting your board. You must choose an area where you will have plenty of space around the board to work easily. Select an area with minimum dust. A garage corner seems a great place to work on your board. You can also work outdoors if your lawn or backyard is not very dusty. Just a pro tip: place a tarp below your board so that the paint/stain doesn't make a mess on your floor.
Step 2: Preparing the Board
Once the board is all set, take some wood putty and fill in the holes from the screws, nails, or any other blotches on the board's surface. This is why it is important to use high-quality plywood when making cornhole boards, as you don't have to deal with such irregularities on the surface.
Let the putty dry for at least 2 hours. Deeper holes may need more time. Once the putty is dry, give a good gentle scrub to the board's surface with sandpaper. Please don't be too harsh on the board. Just a nice scrubbing will suffice.
Step 3: Priming the Board
A plywood sheet needs priming before you can apply paint over it. It is like setting up the base for the paints/stains to stick on. Make sure you buy a primer that can work well with the wood you have used to make cornhole boards.
While applying primer, one thing to keep in mind is to take safety precautions as it is nearly impossible to take off from any surfaces it clings to. You can use disposable gloves to protect your hands and wear old clothes while working with primer. Moreover, you would prefer using a cheap brush for priming because no one wants to destroy a high-quality brush with primer.
Apply the primer over the board surface. It will take 5-10 minutes as you don't have to do double coats or worry about keeping the layer smooth.
Step 4: Laying out the Design
So you have primed the board, it is now time to layout the design on the board. You have endless possibilities here. Most people go for stripes as they are easy to carry out, and the painting process doesn't get complex. You can even write your initials on the boards. Your first name initial goes on one board, and your second name's initial on the other board.
The best design here is stripes as it is easy to carry out.
I chose a 4-colored design for my board, and for this, I had to install 3 stripes. For me, it was a long and costly process because more colors mean more paint and more drying time. It took me 2 days to complete my project. A friend of mine went with 7 colors. You can imagine his dedication to the game. You can go with 2 colors or 3 colors to keep the cost low and complete the project in a short time.
You will need painter's tape for crisp lines on your board. I used Frog Tape. It is the best painter's tape currently available in the market.
Step 5: Picking the Stains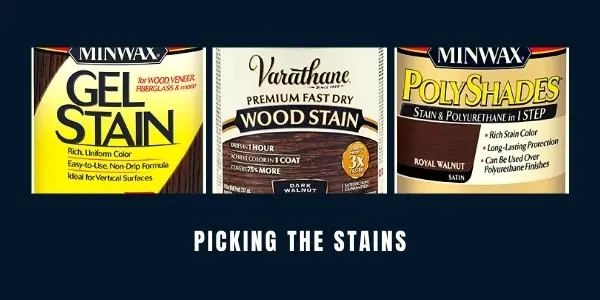 The type of stain you will use depends on the type of wood you are working with. Gel stains don't bleed much under the tapes and give crisp lines. Traditional stains bleed under the tapes and give fuzzy edges. You don't want this to happen to your cherished board. Gel-based stains are difficult to get off from your brush and hands. Therefore, we suggest you wear gloves while working with them and don't use costly brushes.
Step 6: Painting Time
So, now you have your stains, design ready and everything set and finalized, it is time to paint. Painting needs patience. You don't want to run in the process. Be gentle and slow. Paint near the tape first, so you have a border to work with. You will need to apply multiple coats of paints to give a smooth finish to your board. Let the paint dry before you can apply another coat. One layer will take 2-3 hours for drying. Do not dry the paint with a fan or blower as it will disturb the paint. Make sure you don't leave any drips or bubbles in the paint. This is why I always avoid painting with rollers.
Step 7: Making your Board Slick
Once you have painted according to your design and the board is now completely dry, one last thing to do is apply a coating to make your board slick. The best way to perform this step is to wait for at least 24-48 hours before applying finishes.
When you have used gel-based stains, it is recommended to use a water-based finish. Oil-based finishes leave a yellow-amber shade which can interfere with the outlook of your stained board. They are best for plain boards as they have a color of their own. Water-based finishes are clear and don't interfere with paints/stains/decals on the boards.
You will need to apply 5-10 coats, depending on the level of slickness you prefer while playing.
One coat needs at least 2 hours to dry. This will take you a complete day as well.
Avoid using rollers while working with finishes.
It is best to coat your entire board with a finish to protect it from elements in the environment. Make sure you coat legs and underneath the board as well.
Final Words
So now that you know how to stain and paint your cornhole boards, it is time to play and amaze everyone with your creative skills. There are endless possibilities when it comes to staining your boards. However, it is a time taking process and demands patience.